EMT 2017:  Transformed by God

Around 85 young people from DOVE USA churches in four states gathered for EMT (Evangelistic Mission Training) camp on Friday, June 16th. They heard teaching on how to be a young man and young woman who serves God in this generation. The camp included outreach in the parks and on the streets of Reading, PA. During these times of worship, teachings, fellowship, outreach and prayer, new friendships were made and God transformed their lives. On Tuesday, June 20th a number headed to Guatemala and St. Vincent and the Grenadines, while others returned home to apply what they have learned. For those on international teams, the two-week summer missions program ends on June 30th with a time to share testimonies of what God has done.
Extended Outreach Teams share stories
Developing a heart of compassion in Guatemala
A team of 10 people served the vision of Julio and Jodi Rodriguez in San Lucas area of Guatemala following EMT training.
The team visited various villages and ministered to the Mayan people, who speak the Mayan language rather than Spanish. The team presented the good news of Christ with puppets telling the people that God's love for them is constant and never changing.
The team befriended and prayed with Wilson, a 12-year-old boy who had had little ability to walk. His testimony, the healing and improvements which are taking place as he follows God and receives prayer encouraged the team. Wilson brought many people to church because of his infectious personality and character. Trevis, from DOVE Westgate Church, PA, had suffered from spinal issues and was able to share with him about how God is there through the hardships of life.
The team also ministered in schools by presenting dramas and sharing personal encounters with Jesus. They also shared at a home for children with no parents.
Jazmine, from The Gathering, PA, enjoyed sharing her personal story of learning to put God first, rather than relationships with others. One Guatemalan girl was moved by this and began to cry. The American youth ministered to the local people as they were touched by these young missionaries sharing experiences with God.
While there, the team developed a heart of compassion for the Mayan young people. They were disturbed to see a pagan priest offer sacrifices of fruit and to learn how the Mayan children are brought up in spiritual darkness. They have been praying that the Mayan youth will turn to Christ.
Showing God's love in St Vincent and the Grenadines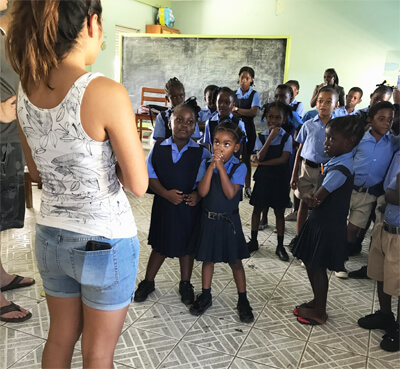 The team of nine set off to the island of Mayreau, one of the islands part of the nation of St. Vincent and the Grenadines.  Many days they were invited to lead a devotional time at the local elementary school. They also enjoyed listening to the children tell their own personal stories.
The team was disturbed by the levels of verbal abuse and beatings which the children received, which in turns causes the children to be violent. They spoke of and tried to show the love and acceptance of God to these children.
One team member, Hannah, from Crossroads Community Church in Winchester, VA, preached to the congregation. The whole team shared the Christian message through drama as well.  As part of showing the love of Christ, the team took many of the children to a local beach to have fun together. Furthermore, as practical service to the local community, the team helped paint an outdoor basketball court.
Cody, from DOVE Rivers of Life Fellowship, Refton, PA, mentioned that he developed a heart for children's ministry in a way he never had before.  He longed to be a good role model to the boys who have not had consistent loving men in their lives.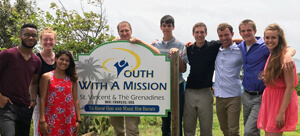 Grant, from DOVE Church, Wilmington, OH, felt challenged by the Lord to get baptized while in SVG. Under the direction of T.J. Smith, the team leader, Agape Community Fellowship of Marysville, OH, several of the young people performed the baptism, their first time to do so. Grant wonders whether God is leading him to engage in further missionary service in the future. Many of the youth testified that they have been changed by God during their time on missions. One young person is now seeking God, expecting to make a longer term commitment to serve in SVG in the years ahead.
Sponsored by DOVE USA Youth and DOVE Mission International
Read stories from youth and young adult teams 2016 here