2013 Short-term teams leave a lasting impact
EMT youth light the nations
Shining with enthusiastic love for Jesus, 102 EMT—Evangelism, Missions, Training— participants streamed into the world to share their faith. Youth representing eleven congregations from Georgia, Ohio, West Virginia, Pennsylvania and Massachusetts attended the four-day EMT camp held in Rosedale Grove in Laureldale, Pennsylvania to worship the Lord, learn how to share their faith with unbelievers and how to serve others, especially those in other cultures.
Sixty-two of the youth traveled to other countries to participate in nine-day outreaches. Seven flew to Brazil, nine to Bulgaria, fifteen to Colombia, six to Guatemala and twenty-five to the Caribbean islands nation of Trinidad and Tobago. The EMT students who did not travel to other countries participated in local outreaches in the city of Reading, Pennsylvania.
As the youth evangelized and provided practical service, they returned home transformed and eager to serve God in their everyday lives. When the youth returned to the USA on June 28, they gathered for a debriefing and celebration session. Peter Bunton, director of DOVE Mission International, said, "It was encouraging to see more youth and young adults participate, receive training and become short-term missionaries this year than ever before. We've been praying for more long term missionaries and feel confident God will be speaking to some of these young people about long term missionary service."
See EMT Camp photos on Facebook here
A Parent Speaks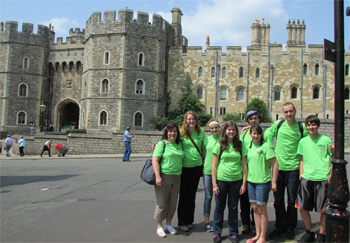 This event was collaboration between DOVE Mission International, the mission's arm of DOVE USA, and the DOVE USA Youth Ministry. Participating in EMT mission outreaches requires sacrifice in raising funds to travel and for other expenses. Parents may question the effectiveness of these short term missions. Joy Glick, a parent of two daughters who participated in EMT outreaches shares her perspective. "My girls have been forever changed by their experiences last year and this year. The powerful experience it is for them to be part of the training, and then having all those youth spread out across the world and come back for a morning of sharing at the end is a feat so few churches are willing to undertake. It not only validates them as active members of the body of Christ but gives them a perspective that cannot be gained any other way than by going to new cultures and peoples. The empowerment it gives to the youth affects their families, their communities and their world." Joy believes the experiences are so deep that results cannot be measured or even understood for years and generations to come.
A Host Church Leader Comments

Another question people sometimes ask is how do the host countries view American youth interacting with their cultures. Tihomir Tenev of DOVE Bulgaria, which hosted nine EMT youth, answers that question. He writes: The team was more than effective! They have been the best and the most anointed team we have ever had as a church. They were very well prepared and trained. In every opportunity they served with all of their hearts and really ministered to the people. They prayed for many, with the teens in the church of Burgas they visited, in Lozarevo and Sliven's Sunday meetings and during a Wednesday night meeting. God gave them words of knowledge and the right words to pray without them even knowing the details of the people's situations for which they were praying. The team showed so much love to the people for whom they prayed, and often tears were shed as the recipients felt touched by God's love. The team behaved as mature people knowing their mission purpose. The hosts from our church were so happy to have them and are missing them after developing close relationships with each other. They not only covered all their expenses but were very generous to the hosts and the church.
 A Team Leader's Perspective
Chris Tangert, who helped lead the Bulgarian team and is from DOVE Westgate, said, "God is faithful and exceeded our expectations. One thing that amazed me was how God had specifically handpicked each team member. Each one played a special role and was able to connect with someone in DOVE Bulgaria through sharing God's faithfulness in similar situations. Although we are far across the Atlantic from our Bulgarian brothers and sisters, God allowed us to minister to lots of different people and allowed us to encourage them, be there to pray over them and spur them on towards Jesus. We know that we were a short term team that left a lasting impact through Christ."
Guatemala Team: No language barriers
"The Holy Spirit knows no language barriers," says JoLynn Drexel the adult mentor from DOVE Rivers of Life, Refton, Pennsylvania, who accompanied the team of young Americans to Guatemala.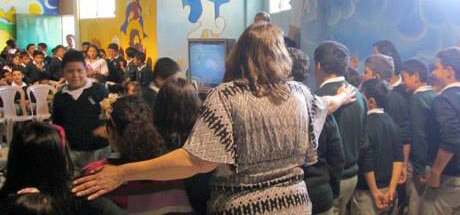 That was an exciting discovery for the six team members, who ranged in ages from 14-51. Although a translator interpreted from English to Spanish whenever the team performed skits, puppet shows, mimes and plays, the team needed to rely on the Holy Spirit while praying for those who responded to altar calls. "It was amazing," JoLynn said, "When we laid hands on them and prayed in English, they could not understand our words but they wept and showed visible signs that God was touching them."
The team also saw God's faithfulness in other areas of need. Although they had prepared a program for children's ministry, they were unaware that they were expected to present forty-five minutes of programming in schools. The team prayed. God answered. In addition to presenting skits, mimes and puppet shows, the team acted out Daniel and the Lion's Den, a Bible story that the crowds cheered while watching. Before the team traveled to Guatemala, they learned some Spanish songs to sing during the program. The people also loved learning two songs in English that the team taught them.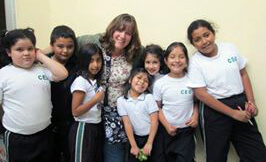 The first day, the team presented a program to more than 800 public school students in two separate schools. The team was thrilled to learn the government welcomes Christians into public schools to present programs. The team also helped with English studies and presented programs at Getsemani, a private Christian school operated by Julio and Judi Rodriquez of Light and Life Church in Guatemala.  About ten minutes before the end of their allotted time at each site, the team gave an altar call for those who wanted to ask Jesus into their hearts. There were many responses. The team also accompanied Oscar and Sharon de Prerez, also from Light and Life Church into remote villages, where many mothers who had brought their children to see the program and responded to the invitation. One little girl who had stomach pains for many months was instantly healed after team members prayed for her. That answer to prayer was really faith building for the team and for the crowd.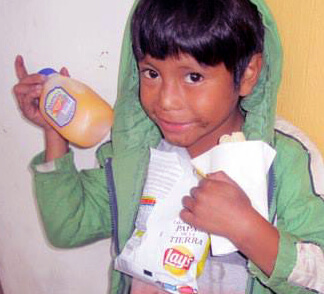 "About 1,000 children gave their lives to Christ during the Guatemala outreach," reports Becka Rittle, a leader of the team from The Fireplace, Myerstown, Pennsylvania .
"What we see in the natural as impossible, God does in the supernatural," JoLynn said. "We were a team of only six people, but it was so exciting to see what God did and how He enabled us to minister to so many and use the additional time allotted."
JoLynn said, "Mission trips always change youth. "Their experiences help them get out of their comfort zones and realize they can do something for God. That knowledge gives them confidence to continue reaching out to others when they return to the States."
See more Guatemala photos on Facebook here
Trinidad and Tobago Team:  inward and outward changes
"Amazing" is how twenty-five teens describe their EMT outreach to the Caribbean island of Trinidad and Tobago in June. The teens from Pennsylvania and West Virginia are not referring to a vacation but the awesome power of God manifested among them during nine days participation in EMT—Evangelism, Missions and Training—sponsored by DOVE Mission International, the mission's arm of DOVE USA, and the DOVE USA Youth Ministry.
Tyler Esbenshade, DOVE Westgate of Ephrata, Pennsylvania, said, "During my time in Trinidad and Tobago God allowed me to share His name. One day, we went to the school, and talked with the kids about Jesus. We made bracelets resembling the sin we have in our lives and how God can take that sin away. I got the wonderful opportunity to lead one of the boys in my group in the salvation prayer. It was amazing to be able to bring him to the Lord."
Each teen member shared their personal testimony during one of the six different school outreaches. They were thrilled to be welcomed by a public school that previously did not allow Christian groups to minister.
Team members also helped with maintenance at the YWAM base where they stayed. Digging trenches, painting, housekeeping and landscaping kept the team busy in between school, community and local church outreaches. Three after-school programs were conducted in public parks. The team invited people off the street to participate in vacation Bible school for kids and in sports activities for youth and young adults. "It was awesome building relationships with the kids and showing God's love by praying and planting (spiritual) seeds," said Shane Good, 17, of Newport DOVE, Elm, Pennsylvania.
Shane's sister, Sarah, 14, said, "I went to Trinidad and Tobago thinking I could help make a change in other people's lives, but I came out changed myself." She explained that after her 15-year-old brother died about eight months before the trip, she had shoved down some resentment toward God. The leader at the YWAM base conducted a time of intense prayer for each team member. During her prayer session, Sarah confessed her anger and resentment toward God for allowing her brother to die, and asked for God's forgiveness.
"I felt an incredible weight lift off of me," she said. "The difference within me was noticeable to everyone on the team."
Many teens mentioned the personal help they received during this time of personal ministry. One West Virginia participant said she had been working on compiling her testimony and having a tough time knowing what to write down when EMT leader Chad Miller said, "The Holy Spirit has been pulling me to ask you this for three days now. You seem like a joyful and fun person, but there is sadness in your eyes."
"After he said that," the teen said, "I just spilled it all out about my mom being a drug user. I watched her get abused by her ex-husband and I have seen many things that a child should not see. Chad prayed for and I was completely set free. The next morning at church, I told my testimony, but this time I had the grace and forgiveness part in it. I really do believe that's what the people needed to hear."
Tyler Esbenshade said, "God showed me things I was dealing with that I hadn't even been aware of. I got rid of a lot of junk I was dealing with in my life. After the ministry time, I felt so relieved and better understood my situation."
By the end of the outreach, about 245 people had said the salvation prayer. Even the van driver, who transported the team and who was Hindu, accepted Christ.
Tyler summed up the outreach by saying, "God did so many amazing things on the trip—it was unreal. I enjoyed my team, and I am excited for what God has planned next in my life."
See more Trinidad and Tabago Team photos on Facebook here
Colombia Team:  Short-term outreach with long-term results
Fifteen EMT teens on their way to Colombia, South America, missed their connecting flight and ended up sleeping in that airport in Bogota, Colombia. While that may have been upsetting to many travelers, Joey Martinez, Reading DOVE, Pennsylvania attributed the missed flight because "God had other plans." The on-the-fire youth group ended up sharing the love of Jesus with other travelers in the airport. Several people accepted Jesus and witnessed God healing several people in response to prayers.
When the team reached Armenia, Colombia, they worked with two of DOVE's newly engaged churches. They expressed God's love and compassion to the people through testimonies, dramas and a street-held Vacation Bible School. At one outreach, thirty-five people responded to the team's invitation to accept Jesus. Fifty kids accepted Jesus through the street Vacation Bible School outreach.
Team members planted flowers and participated in other beautification projects. The American team was even featured on a national television program broadcast in Colombia.
"The DOVE churches in Colombia were so loving and excited to join us in sharing the gospel and in serving the community," Joey said.
Team member Bob Handley from the DOVE church Calvary Worship Center in Holden, Massachusetts, said he was amazed by the unity in the body of Christ. "By the end of our nine-day outreach in Colombia, my perspective of unity within the body of Christ changed dramatically. I was both surprised and unprepared for the life-changing relationships that had been formed with our DOVE friends and co-workers in Colombia. After a rewarding week of serving alongside their ministry, heartfelt good-byes were exchanged among children, youth and pastors in an atmosphere filled with the presence of the Holy Spirit like I have never felt before. The words in Ephesians 2:22 came alive to me:  And in Him you too are being built together to become a dwelling in which God lives by His Spirit.  "I simply hadn't realized how connected and unified we could become in order to fulfill the Great Commission together as one body filled by God's Spirit."
Joey summed up the outreach by saying, "This was an awesome short-term trip with long-term impact on lives."
More Columbia Team pictures on Facebook here
Brazil Team:  Faith Grows
After completing EMT—Evangelism, Missions, Training—in Reading, Pennsylvania, seven youth headed to Brazil for a nine-day outreach. Kelsy Snavely, DOVE Westgate, led the team. She had previously spent six months in short-term mission work in Brazil and was able to also serve as the interpreter for the team.
"God moved in so many ways during our trip," said Trisha Miller of Newport DOVE in Manheim, Pennsylvania. "One of the ways he moved was when I was praying with a lady in the church. I felt like I should pray for her husband, but I didn't even know if she was married. I didn't want to be embarrassed, but I started praying for her husband, and I felt strongly I should pray for a new season in his life. I prayed for a new season and that their marriage would become stronger with Jesus in the center. The woman started to weep and explained that she and her husband were struggling. She told me that before I prayed for her she had a vision of winter, with no life, no joy and everything around her was dead. Then, in the midst of the dead winter, things started growing and turning green. Flowers bloomed and there was joy and peace. The woman said that she didn't know when the season was going to come, but that I had confirmed it for her."
Another team member, Brighton Van Syoc, also from DOVE Westgate, said his faith was strengthen. "Our time down in Brazil was a time of healing, praying and seeing what God miraculously did. There was one miracle that stood out to me. When we were having the festival on Friday, it started to drizzle." Rain would have forced the team to cancel the outdoor outreach. The team prayed that God would stop the rain and not let it come back. The drizzle not only stopped, but rain did not interfere with any of the activities throughout the team's stay in Brazil. Instead, whenever the team went to bed, the rain downpoured. "It is so awesome to know that when we put our trust and faith in God, he will calm the storm," Brighton said.
Incidents such as those really strengthened team members' faith. Mosel Royer who accompanied the team as a coach and who is from The Gathering, a DOVE planter church in Lititz, Pennsylvania, said, "From a leader's perspective, it was awesome watching them spend time with the Brazilians and not be intimidated by a language barrier. Many Brazilian youth know some English and are eager to improve their skills. Through talking slowly and gesturing, the team could often communicate effectively without interpretation.
During one of the basketball outreaches, a Brazilian youth injured his ankle and needed to drop out of the game. Mosel saw him limping and encouraged team members to pray for him. They laid hands on him and prayed. He stood up and was instantly healed. He rejoined the basketball tournament, and later told team members that it was the first time he ever witnessed a miracle. He said, he hadn't believed in the Holy Spirit, but now believed."
More Brazil Team pictures on Facebook here
Bulgaria Team:  Brothers and Sisters
Nine EMT youth headed to Bulgaria to share their faith after completing EMT—Evangelism Mission Training—in June.
"It was amazing to experience a culture different from ours," said Stephanie Sauder of Newport DOVE, Manheim, Pennsylvania. She enjoyed ethnic foods and city living, but the best part was experiencing the power of prayer," she said.
Team mate Sarah Glick, from DOVE Westgate in Ephrata, Pennsylvania, said it was an eye opener to realize that people living on another continent experience the same spiritual warfare as Americans. One day, she prayed for a woman who has been diagnosed with diabetes. Sarah could empathize with the struggle to trust God while facing health issues. Said Sarah, who lives with the challenges of an autoimmune disorder, "We connected because we both know what it is like to struggle with symptoms and yet trust God for complete healing."
Chris Tangert, who helped lead the Bulgarian team and is from DOVE Westgate, said, "God is faithful and exceeded our expectations. One thing that amazed me was how God had specifically handpicked each team member. Each one played a special role and was able to connect with someone in DOVE Bulgaria through sharing God's faithfulness in similar situations."
The team was impressed with the strong faith of followers of Christ within the DOVE Bulgarian churches where they ministered, and especially with Dimka and Tihomir Tenev, leaders of the Bulgarian church and hosts for some of the team members.
In addition to ministering within churches and cell groups, the team interacted with children in an orphanage, played games with Bulgarian youth and hiked to the top of a mountain for praise and worship. They also joined forces with a group to honor traditional families.
The team sensed that many people who are not connected with the church either do not believe in God or have a religious understanding but not a heart change. The Bulgarian Christians seemed most appreciative of seeing young people sold out to God.
"The trip changed me," Sarah said. "I have a heart for Bulgaria. I love the people we met and seeing their heart for God."
Chris summed up the outreach by saying, "Although we are far across the Atlantic from our Bulgarian brothers and sisters, God allowed us to minister to lots of different people and allowed us to encourage them, be there to pray over them and spur them on towards Jesus. We know that we were a short-term team that left a lasting impact through Christ."
More Bulgaria Team pictures on Facebook here
See an exciting report from 2012 outreaches here.
Plan Now for 2014!
Youth and Young Adult Summer Missions June 13-27, 2014. EMT Camp will be held June 13-17. Outreach teams June 17-28. Details will be coming! Outreach locations will be announced in the next few months.