Short-term mission opportunities in 2020
UPDATE: At this point, the short-term team below is still going ahead as planned. We will update that plan as necessary. 
If you would like to participate, please download an application below. Send your application and application fee to DMI, 11 Toll Gate Road, Lititz PA 17543.
Zambia

December (specific dates to be determined)
This is a dual-purpose team. Participants will help with construction and children's ministry, or only one of these areas if desired.
Team leaders: James and Mary Quigley

Medical Missions
A medical missions team recently went to Kenya to serve in rural areas.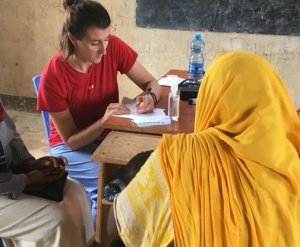 This team would not have been able to complete the work alone, so they joined together with Kenyan doctors and volunteers, the local YWAM leader and interns, and some of the DOVE family in Kenya to provide medical assistance at three clinics.
Over the course of four days, this large team served over 550 people in rural Kenya. They provided physical therapy, prescriptions, and first aid treatments. They also gave out free toothbrushes, toothpaste, and vitamins. An essential part of their time was giving health presentations to the people who were waiting to be seen at the clinic.
The most important service that the team provided was prayer. Jesus has not yet been fully accepted in these rural areas, so many people experienced the love of Christ for the first time at these medical clinics.
If you would like to get involved in the next medical missions team, email us! We would love to hear from you. Reach out to .
The vision of DOVE Medical Missions is proclaiming Christ to the nations through medical care.
We will accomplish our mission by:
Sending medical and other personnel to the nations, both short-term and long-term

Facilitating and sending medical teams and supporting ministry teams

Resourcing DOVE churches into medical and service ministry, encouraging cooperation with DOVE ministries, churches and church plants

Establishing ongoing, long-term medical ministry where needed

Training and educating local medical personnel
In recent years we have served in Peru, Kenya, Uganda, Iraq and Haiti.