Cover your bases before launching out to plant a church
Last week we looked at the importance of being sent from a home base. If you missed it check it out here. Today we will look at the first base in our baseball analogy for church-planting.
First base – Training
First base is the training/preparation base. A lot of church planters are generally inexperienced leaders since they are just starting out in ministry. It is important to not underemphasize the need for training. Initially, we need to have a deep personal relationship with Jesus. This is our first area of preparation. John 17:3.
Then, we should be trained in a cell group setting. We need to learn to be faithful in little, so we can be faithful in much (Luke 16:10). We should lead a cell and see it multiply as a part of our hands-on training.
Learn from others with experience. More than 90% of all missionary and leadership problems concern relationships with other leaders. We can learn so much about working with people in a cell group setting. Questions we must ask ourselves.
• Do we recognize our limitations and strengths?
• Do we have a ministry gift or a ruling gift, or both?
• Do we recognize our need for a team with various gifts?
• Do we understand healthy church government and decision-making? 
• Are we a primary leader or a supportive leader?
• Do we understand group dynamics?
• Do we know our role in leadership?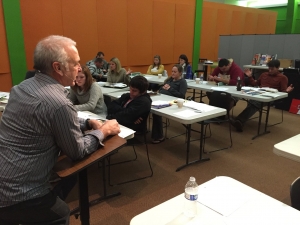 An online option to get started in training could be the DOVE Church-Planting Bootcamp. It is designed to go through at the convenience of your own schedule and speed while equipping you in your church planting preparation.
Also a school like the DOVE  Leadership and Church Planting School may be vital for you as a part of your preparation. Check out the many options that are available here. 
A biblical training base has a two-pronged focus:
Impartation of knowledge and inspiration in a classroom setting (Paul taught future leaders in the School of Tyrannus: Acts 19:9).

Experiencing practical ministry through a mentoring (coaching) relationship. Paul mentored Timothy (Acts 16:1-5).
Both of these models of training are important and they can give you a well-rounded preparation for church planting and leadership. 
For more Information and to Register for our upcoming eldership training  Click Here: Elders & Church Leadership Seminar
For more Church Planting Resources and to find out more about DOVE USA visit: DOVE USA Church Planting
Never miss a resource that we post! Subscribe to our Blog here